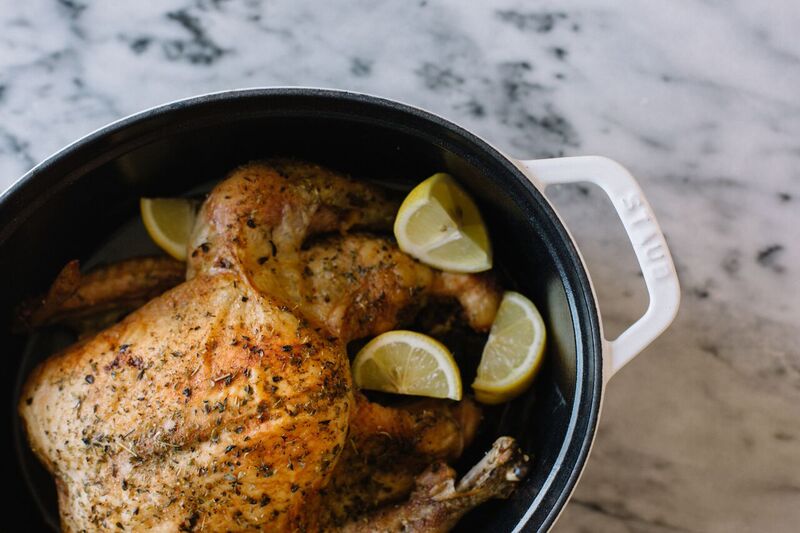 This whole roast chicken is great with a side of asparagus, broccolini, or cauliflower mash. It's an easy and delicious comfort food that's perfect for a night at home or when you have friends over.
Makes 2 to 4 servings, depending on the size of the bird.
Ingredients
1 tablespoon dried rosemary

1 tablespoon dried thyme

1 tablespoon dried oregano

1 tablespoon sea salt

1 tablespoon olive oil

1 (3-pound) whole chicken

2 lemons, halved

1 garlic head
Directions
Preheat the oven to 375°F.

In a small bowl, combine the rosemary, thyme, oregano, salt, and olive oil.

Remove any giblets from inside the chicken and pat it dry with paper towels. Set it in a shallow roasting pan and coat the chicken with the seasoning mix.

Stuff 2 lemon halves into the cavity of the chicken and place the other 2 in the pan.

Slice the top off the garlic head to make the cloves visible and set it in the cavity of the chicken, cloves out.

Bake the chicken for 60 to 75 minutes, until an instant-read thermometer inserted into the breast without touching the bone registers an internal temperature of 170°F.

Let the chicken rest for 5 to 10 minutes, then slice and serve. 
Keep your menu fresh and fabulous. Sign up here and never miss a new recipe.