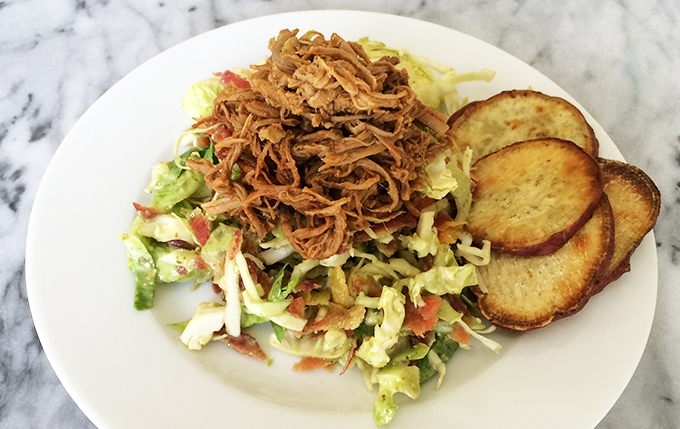 It makes my mouth water even writing this recipe. Do yourself a favor and shovel a little slaw and pork onto a yam chip for the perfect bite.
BBQ Pulled Pork 
1 pork loin

1 tbsp paprika

1 tbsp cumin

1 tsp cayenne pepper (optional)

1 tbsp organic maple syrup

1 cup organic chicken or vegetable broth

1/2 cup favorite gluten free barbecue sauce
Directions
Add pork loin and cook on high for 4 hours. (or on low for 8 hours)

If you like your BBQ pork sticky, drain the juices from the slow cooker. Add bbq sauce and with two forks shred and mix the pork.

For a lighter sauce, only add 1/4 cup of BBQ sauce to liquid in slow cooker, shred and serve.
Ranch Slaw 
1 cup shredded Cabbage

1/4 cup shredded brussels sprouts (optional)

1/4 cup shredded multicolor organic carrots

4 tbsp BeWELL Ranch or Primal Kitchen ranch
In a large bowl, rinse and drain shredded vegetables.

Drizzle with BeWELL ranch and mix to coat.
Japanese Yam Chips 
1 Japanese yam

2 tbsp leaf lard, bacon grease or ghee
Preheat oven to 375 degrees.

Slice Yams to 1/4 inch think.

Place on a baking sheet and dress with leaf lard, mix to coat. (leaf lard roasts vegetables to a crispy and dry)

Bake for 18 minutes, flip and bake for 10 additional minutes.