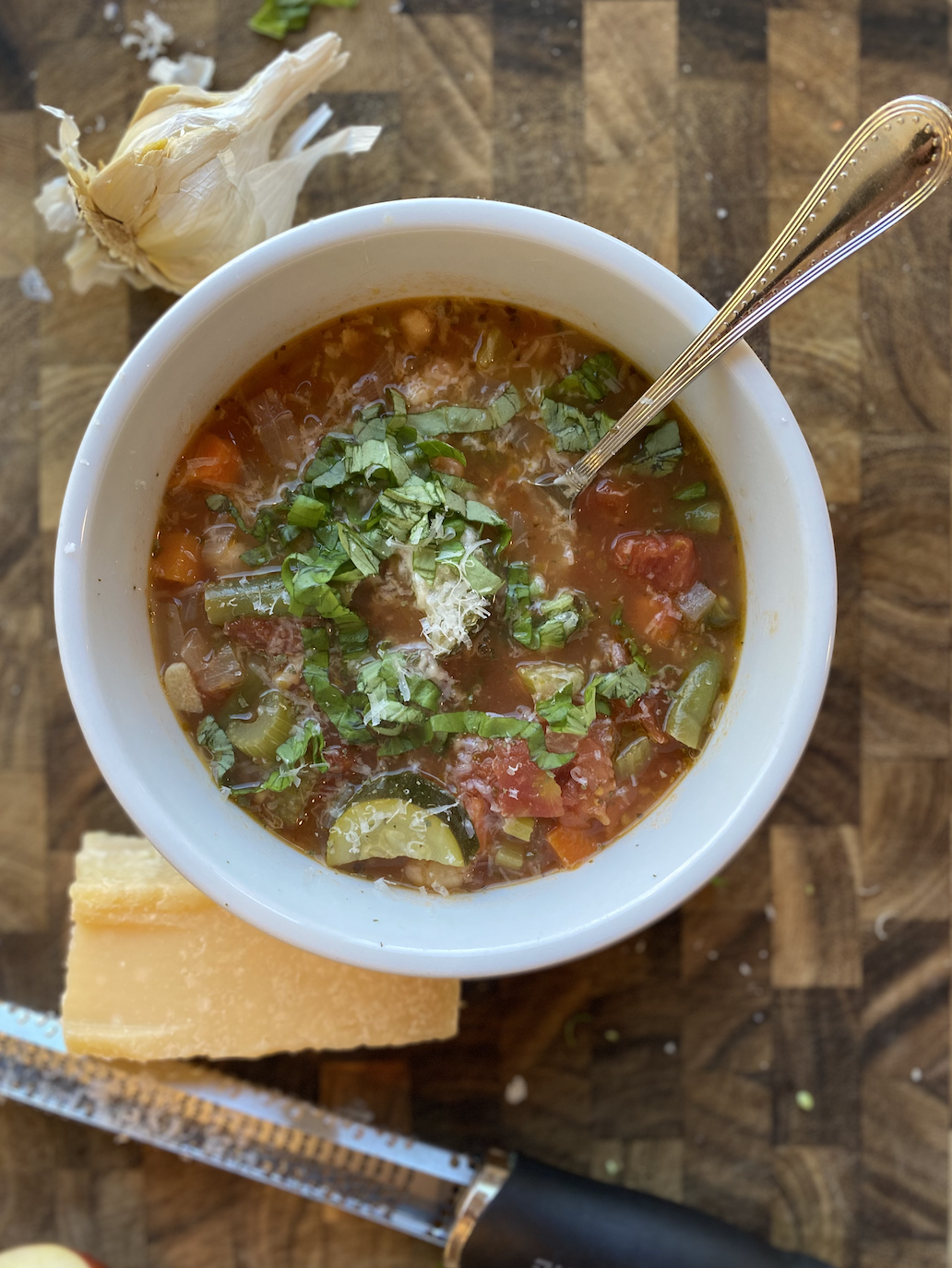 SERVINGS
4-6 Servings
FREEZER FRIENDLY
YES
PREP TIME
10 minutes
TOTAL TIME
30 minutes
This veggie-loaded soup pairs nicely with an Italian Chicken or Turkey meatball, it can be saved in the fridge for 5 days and freezes well. Cabbage is also a nice addition to this soup (add it with the celery, carrot and onion) if you have it on hand.
2 tablespoons extra-virgin olive oil
1 large onion, diced
4 cloves garlic, minced
1 cup stalks celery, diced
1 cup large carrot, diced
1 1/2 cups green beans, trimmed and cut into 1/2-inch pieces
1 teaspoon dried oregano
1 teaspoon dried basil
Kosher salt and freshly ground pepper
1 28-ounce diced tomatoes
1 zucchini diced
6 cups chicken bone broth
1 15-ounce can white beans (optional)
1/3 cup finely grated parmesan cheese (optional)
2 tablespoons chopped fresh basil and parsley

Directions
1. Caramelize garlic, onions, celery, and carrot in olive oil for about 8 minutes on medium-high heat. be careful not to let the garlic burn.
2. Add green beans and oregano stirring for 2 minutes.
3. Add tomatoes, broth and bring to a boil.
4. Turn down to a simmer and add beans and zucchini.
5. Simmer for 10 minutes.
6. Top with Parmesan, basil and parsley!