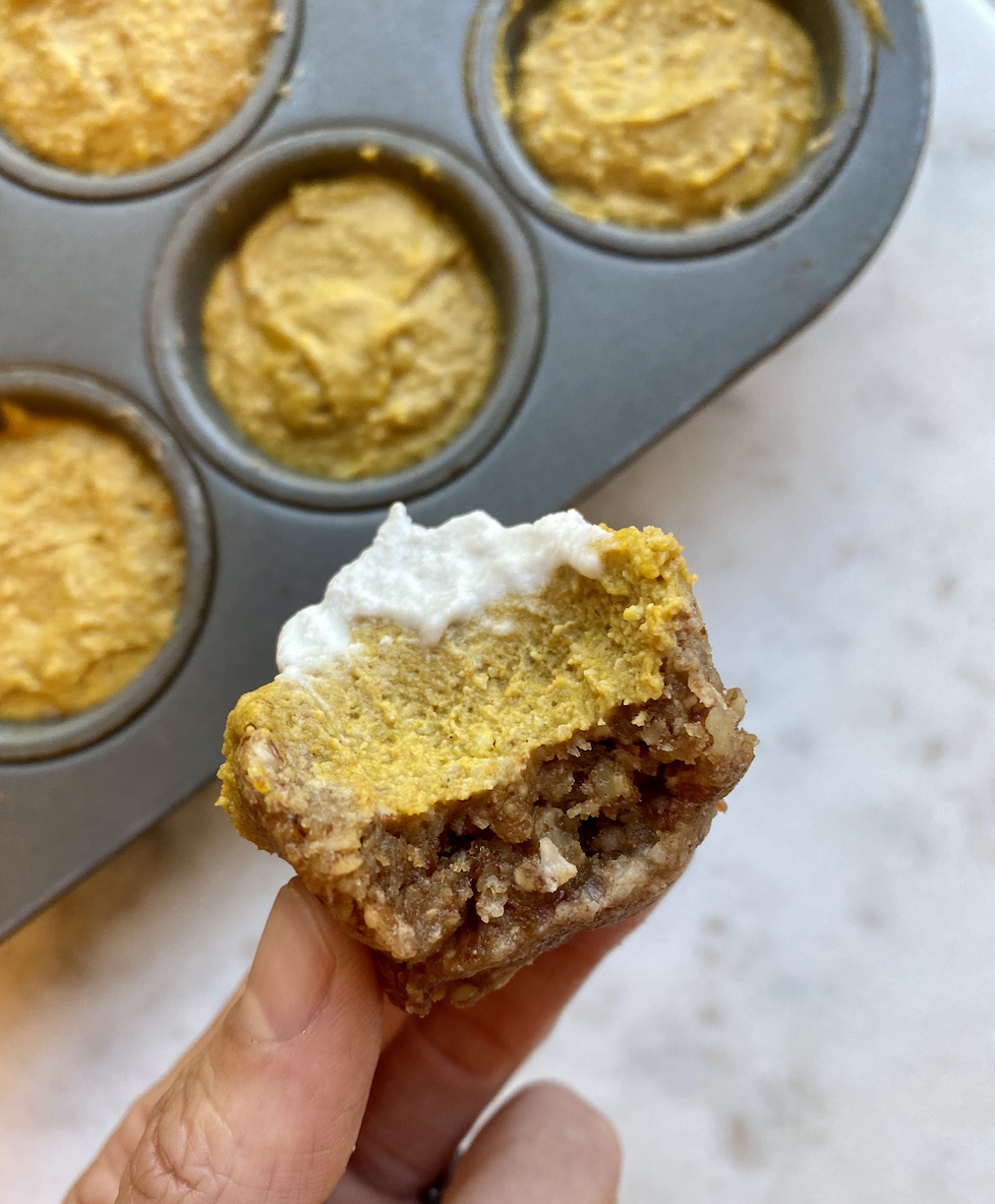 PREP TIME
10 minutes
TOTAL TIME
45-60 minutes
SERVINGS
6 Servings
FREEZER FRIENDLY
Yes
I love everything Sugarproof kids share, and it's my goal to champion books, brands, and experts like Emily and Michael, who are doing deep work. Recently, I went live on IG with Emily to make their refined sugar-free pumpkin pie using dates, and it was delicious!
After my family devoured their Raw Pumpkin Pie, I recipe tested a few variations to see if I could lower the sugar content (even more) and cook the raw taste out of the pumpkin. Below you will find my version of their recipe. Both recipes are delicious, and most importantly, they reduce the sugar content and increase nutrients. 
A slice of Sugarproof Pumpkin Pie only has 9.7 grams of total sugar from the pumpkin puree and the dates. Still, it also contributes twice the fiber (5.5g vs. 2.4g), more protein (8.5g vs. 5g), and vitamins, minerals, and antioxidants. According to the USDA, a standard slice of pumpkin pie has 25g (over six teaspoons) of total sugar, most of which is in the form of white or brown sugar. 
Crust:
1 3/4 cups raw pecans (or other nuts of choice)

3/4 cup soft, pitted dates*

1/2 cup dried, unsweetened coconut

Pinch of sea salt

Filling:
1/2 cup raw cashews, soaked either in cold water overnight or in boiled hot water for 30 minutes, rinsed, and well-drained

1 cup pumpkin puree (NOTE: if using homemade pumpkin puree, be sure that it is thick and not watery. You can remove excess water using the method described here.)

1/2 cup coconut cream

1/2 cup soft, pitted dates*

1 teaspoon vanilla extract, optional

2 tbsp Pumpkin Pie Spice

*Note: If your dates are dry or hard, soak them in warm water for 20 minutes to soften them, then drain them well.

Optional toppings:
–Whipped coconut cream, instructions below.
–Regular whipped cream, unsweetened

Directions:

If you haven't soaked your cashews overnight, soak them now in boiled hot water for 30 min, rinse, and drain well. Also check your dates for both the crust and the filling and see if them seem dry or hard. If so, soak them in warm water for 20 minutes, then drain.

Put the ingredients for the crust in a food processor and pulse until evenly chopped. Then process on low speed and eventually high speed for a few minutes until the mixture starts to pull away from the sides and collect towards the middle.

Transfer the "dough" into mini cupcake pans or a standard size, shallow 9 inch (23 cm) pie pan (not deep dish). Using your fingers, press the mixture into an even layer that covers both the bottom and the sides of the pan.

In a medium pot, add coconut, pumpkin, vanilla and pumpkin pie spice and simmer over medium heat for 5-8 min to open up spices and cook the raw taste out of the pumpkin. Allow to cool.

Add all the ingredients for the filling to the food processor (no need to wash it in between – hurray!). Pulse until roughly combined and then blend on high speed until smooth.

Transfer the filling to the tin or pan evenly.

Cover the pie bites and put it in the refrigerator for 4-5 hours to fully chill and set.

Serve with whipped coconut cream and enjoy!